FIRSTS by LAURIE ELIZABETH FLYNN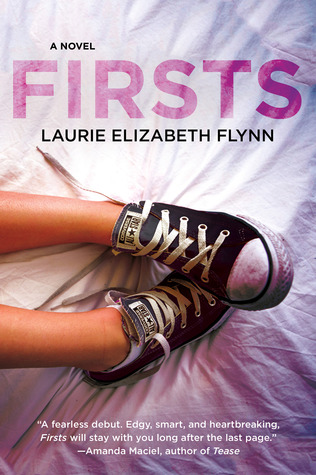 From Goodreads
Seventeen-year-old Mercedes Ayres has an open-door policy when it comes to her bedroom, but only if the guy fulfills a specific criteria: he has to be a virgin. Mercedes lets the boys get their awkward, fumbling first times over with, and all she asks in return is that they give their girlfriends the perfect first time- the kind Mercedes never had herself.
Keeping what goes on in her bedroom a secret has been easy- so far. Her absentee mother isn't home nearly enough to know about Mercedes' extracurricular activities, and her uber-religious best friend, Angela, won't even say the word "sex" until she gets married. But Mercedes doesn't bank on Angela's boyfriend finding out about her services and wanting a turn- or on Zach, who likes her for who she is instead of what she can do in bed.
When Mercedes' perfect system falls apart, she has to find a way to salvage her reputation and figure out where her heart really belongs in the process. Funny, smart, and true-to-life, FIRSTS is a one-of-a-kind young adult novel about growing up.
My Review
I gave this book a 4 Star Rating
I received this book by Netgalley and the Publisher St. Martins Press for a honest review.
Expected publication: January 5th 2016
I was really unsure if I was going to enjoy reading this book but I did find it a very good read.
Mercedes is a 17 yr old senior in high school who comes from a broken home. She has this open door policy to her bedroom that she takes most males in that are virgins. She coaches them in the act of sex and how they should treat their girlfriend on the night that they plan on having sex with them. One of her strictest rules that are not to be broken, is that they never speak of the act that she performs with them. When her best friends boyfriend throws himself at her and she declines he lets Mercedes know that if she tells her best friend on what he did he would make her pay for it. He does make her pay, he turns the whole school against her by having a video of her performing some of the acts and he also has her journal that she recorded everything into.