The One I left Behind
by Jennifer McMahon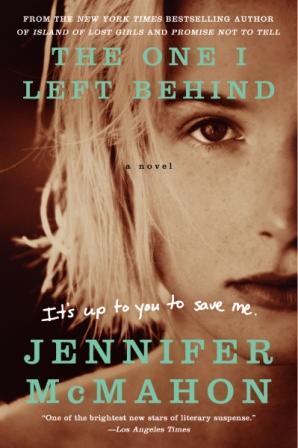 From Goodreads
The summer of 1985 changed Reggie's life. Thirteen, awkward, and without a father, she finds herself mixed up with her school's outcasts-Charlie, the local detective's son, and Tara, a goth kid who has a mental hold over Reggie and harbors a dark secret. That same summer a serial killer called Neptune begins kidnapping women. He leaves their severed hands on the police department steps and, five days later, displays their bodies around town. Just when Reggie needs her mother Vera-an ex-model with many "boyfriends" and a thirst for gin-the most, Vera's hand is found on the steps. But after five days, there's no body and Neptune disappears.

Now a successful architect who left her hometown behind after that horrific summer, Reggie doesn't trust anyone and lives with few attachments. But when she gets a call from a homeless shelter saying that her mother has been found alive, Reggie must confront the ghosts of her past and find Neptune before he kills again.

With her signature style, Jennifer McMahon portrays the dark side of adolescent friendship and introduces characters who haunt the imagination, along with a disturbing web of secrets, betrayals, and murder.
My Review
I really love how Jennifer McMahon writes her books.
This story jumps between 1985 and 2010. In 1985 their is a serial killer called Neptune kidnapping women and cutting off their right hand and than 4 days later leaving their body to be found. Reggie's life changes as her mother happens to be Neptune's last victim. The only difference is her body is never found. With no father in the picture Reggie is left to be raised by her Aunt. Although her mother really was never a good mother to her. She would disappears for days at a time. Reggie's mother Vera was a very beautiful woman. In her younger days she was a model and actress in Broadway plays.
Twenty five years later Vera shows back up. With her right hand missing. She has cancer and her mind is not there. She does not have much time to live. Shortly after her mother shows up Reggie's childhood friend becomes missing. Her right hand is found, Reggie goes on the hunt to find the Neptune killer before he kills again.
The Truth About Books by Theresa!
Please feel free to comment.